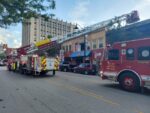 A fire at a downtown Butler eatery could have had a far more serious result if not for an early warning and the quick actions of firefighters.
The call came into the Butler County 911 Center shortly after 6:30 p.m. Monday for smoke coming out of rear roof vents at the Chop Shop.
According to Butler City Fire Captain Kevin McAfee, crews were on the scene in about three minutes followed soon after by the owner who unlocked the business.
"We went in and went to the back of the restaurant where the kitchen is. The entire restaurant was filled with fairly heavy smoke," McAfee said. "When we got to the back of the building, we saw that one grill in the kitchen area was on fire. We made a knock down of the fire using pressurized water extinguishers."
It was determined that one of the burners had accidentally been left on. Aside from the smoke, most damage was confined to the grill area.
"Then we ventilated the building with fans. There was a little bit of smoke on the two businesses on each side of the Chop Shop, which were Benjamin Beetle and The Brick House," McAfee said. "We set up fans and ventilated what little smoke was in there."
Although the business may need a brief closure, it is not thought that this fire will force a long term shut down.
A portion of Main Street was shut down for about an hour.
The post Crews Quickly Handle Kitchen Fire At Chop Shop appeared first on ButlerRadio.com – Butler, PA.