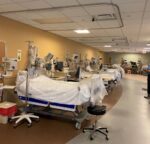 The state department of health is revising how they report COVID-19 deaths, which has led to an increase in the number of deaths for Butler County.
According to the state's revision, there have been 12 deaths in Butler County due to COVID-19. The revision, however, did not change the total death toll for the state, which as of Tuesday morning was 4,505.
Secretary of Health Dr. Rachel Levine explains why the data is changing.
"If a person who resides in a nursing home dies from COVID-19, but actually maintained a residence in another county, the death will be reported in their county of residence listed on their death record," Levine said.
She added that this policy comes from Center for Disease Control recommendations.
"[This process] might be different than how county coroners report deaths, because of differences in regulations," Levine said.
The Armstrong County Coroner said Monday on the department's Facebook page that the state had been previously reporting the incorrect number of deaths for their county. While the state department of health had been reporting six deaths for Armstrong County, the coroner said he had only confirmed two deaths.
The coroner also said he had made multiple attempts to reach out to the department of health to discuss the discrepancy, but had never received a call back. The coroner did note that as of Monday afternoon, the numbers were corrected on the state's website.
Levine announced the changes yesterday. The state is also revealing more data in regards to specific information surrounding demographics for COVID-19 deaths.
The post Data Revision Increases Butler County COVID-19 Death Toll To 12 appeared first on ButlerRadio.com – Butler, PA.