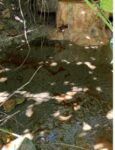 The Department of Environmental Protections is looking for more answers after oil spilled into the Connoquenessing Creek earlier this month.
The DEP sent a notice of violation to the CERTA, which owns the Armco Plant 2 location. The group is currently demolishing the facility, but during the removal of tanks of hydraulic fluid, one of the tanks broke.
During the cleanup process, the group pumped the leftover fluid onto wooden blocks, believing that the blocks would absorb the fluid. Instead, some ran into Sullivan Run, the Connoquenessing Creek, and some nearby storm drains.
Now, the DEP wants to know how a timeline of events that led to the spilled fluid, the amount of hydraulic fluid that was discharged, and how and where the hydraulic fluid has been retrieved.
The DEP notes that a notice of violation is neither an order nor a final action by the department.
The post DEP Sends Notice Of Violation For Conno Oil Spill appeared first on ButlerRadio.com – Butler, PA.