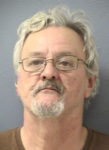 A man from Saxonburg is in jail after allegedly leading police on a high-speed chase through the city of Butler and Butler Township Monday night.
No officers were hurt, but at least one police car was damaged during the chase.
The incident started about 11 p.m. on Monday. Butler City Police say an officer spotted a red Chevy Impala traveling westbound on West Jefferson Street in the city of Butler without its headlights on.
The officer pulled the driver- identified as 50-year-old James Parker Jr. of Saxonburg- over on Pillow Street. Police say he initially pulled to the side of the road and stopped, but as the officer was exiting his patrol vehicle, Parker took off- speeding and blowing through several stop signs.
Police allege as Parker approached a Butler Township police vehicle on Bessemer Avenue, he veered his car to the right- nearly overturning it as he traveled up an embankment. He then allegedly backed up and struck the front of a Butler City police vehicle, causing minor damage to the center of the bumper.
"Parker nearly struck the Butler Township Police Department unit, and did hit the rear bumper of a legally parked vehicle," according to a Butler City police report.
Parker then began to run away on foot but a township officer was able to stop him. Police say Parker continued to fight with officers, but was eventually detained.
Parker is now facing several charges including fleeing and eluding police and resisting arrest.
No officers were injured, and the city police car only suffered minor damage.
The post Driver Arrested After Leading Police On Chase appeared first on ButlerRadio.com – Butler, PA.