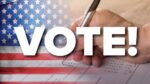 We're continuing on with our Election 2022 coverage, offering previews of contested races.
Today, we're looking at the newly drawn 8th State House District, which features three candidates in the Republican primary.
Incumbent Aaron Bernstine is seeking re-election and says he hopes to continue on with initiatives he's had since he was first elected in 2016.
"I'm really focusing on the areas of economic development, making sure that we have safe and secure election, and I want to make sure in order to keep the fiscal house in order in Pennsylvania, and particularly here in Western Pennsylvania," Berstine said.
One of the challengers is Eric DiTullio. He is a member of the Seneca Valley School Board, and he says his experiences on the board prompted him to run for state house.
"That led me to see that the problems at the heart of it are with Harrisburg and the legislature and what they need to do over the last decade and a half," DiTuillio said. "Following the problem to the source and taking it to Harrisburg and that's where we really need to fix things so we can have a better Pennsylvania here."
John Kennedy is also a school board member in the Mars Area School District. He says he's running for election because he cares about the area.
"I want to be the voice for our community. Not only to hear what they have to say, but to help them. I feel like I'm more of a problem solver than a problem maker," Kennedy said. "The community means a lot to me and that's why I'm running."
Listen to our full interview with Bernstine below:
Listen to our interview with DiTullio below:
Listen to our interview with Kennedy below:
The post Election 2022: 8th State House Republican Primary Preview appeared first on ButlerRadio.com – Butler, PA.