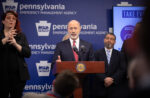 Monday is the day that Governor Tom Wolf's updated order for business closures takes effect.
All non-life sustaining businesses in Pennsylvania are to close by 8:00 a.m. this morning.
Some businesses which may remain open include: grocery stores, gas stations, pharmacies, restaurants for take-out only, radio & TV stations, public transportation systems, and a few others.
Wolf's order was originally set to go into effect over the weekend, but the governor later extended the deadline to today.
"We all need to change the way we live our lives, and we'll have to do that for a period of time so we emerge safe and healthy," Wolf said. "We need time for our hospitals to prepare for the surge, and we need time to develop a vaccine."
Three more confirmed cases of corona virus in Butler County were reported yesterday. That brings the total in the county to four. The first case in Mercer County was also reported on Sunday.
The post Enforcement Of Gov. Wolf's Order Begins Monday Morning appeared first on ButlerRadio.com – Butler, PA.