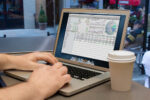 It was another rocky week on Wall Street, especially after the Federal Reserve raised interest rates by another three-quarters of a percent.
"The market simply doesn't like it when the Fed raises interest rates as quickly as they are doing it," local financial advisor Howie Pentony explained.
While it's difficult to project a timeline on recovery, Pentony is optimistic the year's market downturn will make a move in the right direction at some point.
"Typically and historically, after the selling is done in markets like this, we have a really good stock market. So, I'm looking forward to really good myself, and I suspect that when all of this is done, we'll be just fine."
Overall the market is down about 20 percent year-to-date.
The post Fed Rate Hike Causes Another Rocky Week On Wall Street appeared first on ButlerRadio.com – Butler, PA.