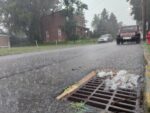 With heavy rains possible across the Butler County area, the Federal Emergency Management Agency is reminding residents about the dangers of flooding.
FEMA encourages residents to prepare for floods since they can often develop quickly or without warning.
Tips to mitigate damage from floods include raising or flood-proofing washers, dryers, water heaters, and HVAC systems. Homeowners can also relocate electrical outlets, seal basement walls with waterproofing compounds, and make sure that gutters are clear of obstructions.
During a flood, pay attention to first responders and evacuate immediately if told to do so. More information is available through the FEMA mobile app.
The post FEMA Encourages Flood Preparation appeared first on ButlerRadio.com – Butler, PA.