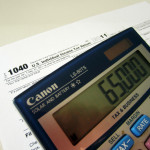 A local service that offers to do your taxes for free if you meet a couple of requirements is in full-swing.
The Volunteer Income Tax Assistance Program- known as VITA- is back in Butler County again this year.
The program is run by the Center for Community Resources and involves trained volunteers preparing and filing your taxes at no cost if you make under $50,000 per year.
VITA Coordinator Jean Bowen said Thursday that VITA is going 'very well' this year.
Two sites have been added this year- bringing the total number of sites where taxes are done to six- including in Butler, Slippery Rock, Cranberry, Kittanning and Cabot.
Locations:
Center for Community Resources- Butler
Slippery Rock University- Slippery Rock
Cranberry Township Building- Cranberry
Harvest Community Church- Kittanning
St. Luke's Lutheran School- Cabot
Trinity Lutheran Church- Butler
Call 211 or 724-431-3767 to make an appointment.
The post Free Tax Service 'In Full Swing' appeared first on ButlerRadio.com – Butler, PA.