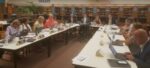 There will be a switch-up regarding the names of those running for a seat on the Butler Area School District school board this November.
The Butler County Republican Committee nominated former Butler Eagle news editor and editorial writer Tom Harrison to appear on GOP ballots in the fall after current school board member Suzie Bradrick withdrew from the ballot.
Bradrick said she made the decision to withdraw last week in hopes that current board President Nina Teff would be nominated in her place.
"My hope is that the party will replace my name with our current Board President, Nina Teff," Bradrick said Monday. "She was the next vote-getter on both ballots. While I loved being able to contribute to my community as a board member, Nina's contributions greatly outweigh mine. BASD is undergoing many positive transformations, educationally and financially. Nina is a big reason for that and we can't afford to lose her."
During the primary election in May, Teff narrowly missed advancing onto the general election in November. she lost to Bradrick by just eight votes on the Republican side. She lost by nine votes to Eva Robinson on the Democratic side.
However, after Bradrick withdrew, Republican committee members did not choose Teff to replace her. During a special meeting Monday night, the committee chose Harrison- who was nominated by current school board member Bill Halle. The vote was 14 to 6.
Bradrick cross-filed in the primary and has also withdrawn from the Democratic ticket, but Teff is not eligible to be nominated by county Democrats. Chairwoman of the Butler County Democrats Catherine LaLonde said in an interview Tuesday that since Teff is a registered Republican she can't be nominated.
"I checked into it," LaLonde said. "She seems like a great person who was doing great things on the board. I'm surprised the county Republicans let her go."
It's unlikely anyone will be nominated to replace Bradrick on the Democratic ticket in November. The deadline to nominate a candidate is end of day on Thursday, Aug. 22, according to LaLonde.
There are five seats, each with a four-year term, up for grabs on the Butler School Board. Five names will appear on Republican ballots, and, as of now, four will appear on Democratic ballots.
The election is Tuesday, Nov. 5.
—
Former Butler Eagle news editor Tom Harrison said his decision to run for a seat on the Butler school board came in the midst of a career change.
"As a journalist I have sat on the sidelines as an observer and commentator my entire career," Harrison said in an interview with Butler Radio on Tuesday. "I resigned as news editor of the Butler Eagle three weeks ago. I'm changing careers- I'm going to seminary to become a United Methodist minister. With that change in careers, it frees me to do some other things."
Harrison said he was approached this past weekend by some friends in the Republican party asking if he'd be interested in running for the open seat. He said he prayed about it, and decided to run.
"I have been a critic of some of the goings-on at the Butler Area School District for quite awhile," he said. "I think my positions are pretty well known."
Harrison said he had a great working relationship with current school board President Nina Teff while working at the paper, and it was difficult going up against her.
"I adore Nina," Harrison said. "I said Monday night- the second hardest thing I did was oppose her. The hardest thing I'm going to do is follow in her footsteps."
Teff is unable to be nominated by county democrats to be put on their ballot in November because she is a registered Republican.