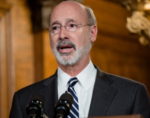 Governor Tom Wolf is responding after the Pennsylvania State House of Representatives and State Senate voted to end the emergency disaster declaration he issued in early March.
"A crisis calls on all of us to make the right decision, even when they're hard," Wolf said. "I'm going to continue to focus on protecting Pennsylvanians in navigating our recovery. But, I'm going to tell you one thing, ending the disaster declaration is not part of that plan."
Local State Senator Scott Hutchinson pointed to a dramatic improvement in conditions over the past few weeks as a reason why voted in favor of House Resolution 836. Hutchinson went on to say that "this resolution restores the basic checks and balances in government as set forth in the state constitution."
Wolf defended his decision renew the declaration on June 3rd as well as explained how ending the declaration would not reopen any closed businesses but it would affect public health options, unemployment requirements, and rules about utility shutoffs.
"It would not end the order signed by the Secretary of Health under the Disease Prevention Act that includes provisions for business reopening and worker safety," Wolf said. "The temporary eviction suspension would cease. The food distribution networks that we set up through out schools would cease to exist."
According to Wolf, his administration will continue to require state workers and customers of state agencies to wear masks to reduce transmission of the virus as well as improve testing and contact tracing capabilities.
The post Gov. Wolf Reacts To House Vote To End Disaster Declaration appeared first on ButlerRadio.com – Butler, PA.