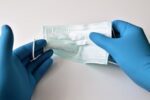 Governor Tom Wolf is urging state residents to still wear face masks.
Wolf spoke yesterday and said that masks give people the chance to move around more while staying safe.
"This reopening process is about balancing small choices, like wearing a mask, with a greater ability to go places and do things that we want to do during this pandemic," Wolf said.
State Secretary of Health Dr. Rachel Levine said new studies show the effectiveness masks have against COVID-19.
"Wearing a mask is a relatively easy, but very effective way to help further prevent the spread of COVID-19," Levine said.
Pennsylvania has shown a downward trajectory of COVID-19 cases for more than a month.
The post Gov. Wolf Urging State Residents To Wear Masks appeared first on ButlerRadio.com – Butler, PA.