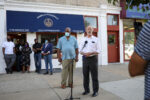 Thousands of people gathered in Pittsburgh and Philadelphia again yesterday as protests surrounding the death of George Floyd and police brutality continued.
Governor Tom Wolf visited Philadelphia to speak with local officials and community members about protests taking place in the city and across the commonwealth to condemn racism, oppression and injustice.
"We need to recognize that we have a lot of work to do with the ills that the protests are about," Wolf said to reporters. "Racism is wrong. We need to establish a Commonwealth that absolutely is fair and equal."
Wolf also said his administration is looking into financial support for small businesses that have been affected by protests and the coronavirus shutdown.
The post Gov. Wolf Visits Philadelphia As Protests Continue Across Pennsylvania appeared first on ButlerRadio.com – Butler, PA.