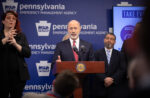 Governor Tom Wolf has signed an order that allows the state to transfer needed supplies between medical facilities.
"This will allow us to move key equipment, like PPE and ventilators, to high-population and high-impact areas," Wolf said. "It will also allow us to bring resources into lower population areas that may not have as many existing medical resources."
All medical facilities will have to report their inventory of PPE to the state—which will also help the state create a county-by-county hospital dashboard of information.
Wolf also said in his daily address that it's still important for Pennsylvanians to continue social distancing.
"While we're no longer seeing exponential growth of new cases daily, this continued growth should serve as a reminder that we do not have this virus under control," Wolf said.
The stay-at-home order runs until the end of the month.
The post Governor Issues New Order To Allow For Transferring Of Medical Supplies appeared first on ButlerRadio.com – Butler, PA.