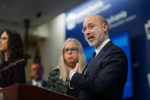 Governor Tom Wolf has announced that all non-essential businesses across the state will close as of midnight Tuesday morning for about two weeks.
This order applies to stores, bars, and restaurants but NOT grocery stores, pharmacies, or medical facilities so that people can continue normal shopping trips.
Governor Wolf is also calling for childcare facilities to close statewide but they will not be forced to shut down. The Pennsylvania Gaming Control Board has ordered all casinos to also shut down by Tuesday morning.
Although this may seem like an overreaction to some people, the hope is that by making this move now, the spread of the virus will slow and eventually stop.
"I know for all of us the next few weeks are going to be challenging, but there's no reason to be fearful or to panic," Wolf said. "We need to take this disease seriously so please stay home. Make as few in-person contacts as you can. The fewer contacts you make, the less likely you are to get the disease, and the fewer people you're going to spread it to."
The post Governor Orders Shutdown of Non-essential Businesses Statewide appeared first on ButlerRadio.com – Butler, PA.