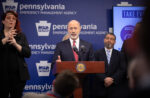 Pennsylvania health officials say there have been 83 new confirmed cases of the coronavirus, bringing the state total to 268.
38 of those new cases are in Western Pennsylvania, however there still hasn't been a confirmed case of the coronavirus in Butler County.
With the expected increase in the number of confirmed cases, Pennsylvania Governor Tom Wolf has ordered all non-life sustaining businesses in the state to close their physical locations to slow the spread of COVID-19.
Enforcement actions will begin Saturday morning against businesses that do not comply. Wolf has directed the Pennsylvania Liquor Control Board, the Department of Health, the Department of Agriculture, the State Police, and local officials to enforce the closure orders within their jurisdictions.
Special exceptions will be granted to some businesses that supply or service health care providers.
The Emergency Management Services Code grants the governor powers upon the declaration of a disaster emergency including movement and occupancy in disaster areas which in the case of the coronavirus, includes the entire state.
"I have heard from business owners and workers that they are worried about the financial repercussions of a closure. I am aware of that and my adminsitration is already working every channel to find ways to support businesses and workers. But before we can save livelihoods, we must save lives."
The complete list of what businesses are considered life sustaining by the Wolf administration can be found here
The post Number of COVID-19 Cases Now At 268 In PA; Gov. Wolf Orders Closures of Physical Business Locations appeared first on ButlerRadio.com – Butler, PA.