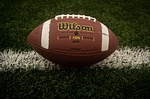 The PIAA High School Football Playoffs have reached the semifinal rounds.
–Pine-Richland improved to 14-0 Saturday with a 49-21 win over State College in the 6A quarterfinals. The Rams will meet Manheim Township (12-1) this Saturday at Mansion Park Stadium in Altoona at 1pm.
–In the 5A quarterfinals: Gateway will meet Manheim Central Friday night in Altoona.
–Quaker Valley and Sharon meet Friday at North Hills high school in the 3A semifinals.
–Wilmington and Washington meet in the 2A semifinals Friday at Slippery Rock University.
–Jeanette and Farrell meet in the 1A semifinals Friday at Seneca Valley high school.
–All of the Friday kickoffs are 7pm.
The only classification that does not include a WPIAL team is 4A, where Erie Cathedral Prep will face Berks Catholic in the semifinals Friday in Somerset.
–Clemson has taken over the #1-spot in the latest Associated Press rankings after Alabama lost to Auburn, and Pitt upset Miami Friday. Clemson will meet Miami for the ACC championship Saturday in Charlotte.
Oklahoma is up to #2 and will meet #10-TCU Saturday in the Big 12 championship.
–Wisconsin is up to #3 in the rankings and will meet #8 Ohio State in the Big Ten title game Saturday in Indianapolis.
–Auburn is the new #4 after beating the Crimson Tide 26-14. The Tigers meet Georgia in the SEC title game Saturday in Atlanta. Alabama has droped to #5.
–Penn State closed out a 10-2 regular season with a 66-3 victory over Maryland Saturday. The Nittany Lions are now ranked #9.
IUP will host Assumption in the Division II "Super Region One" championship game this Satuday. The Crimson Hawks defeated West Chester 44-10 Saturday. IUP is now 12-0 overall. Assumption eliminated Findlay 45-26. Eight teams remain in the Division II tournament.
Frostburg State eliminated Washington & Jefferson from the Division III tournament with a 46-23 victory Saturday.
Todd Graham has been fired by Arizona State after a 7-5 season. Graham had been with the Sun Devils for six seasons after leaving Pitt.
Kevin Sumlin was fired by Texas A&M after six seasons. The Aggies went 7-5 this season. Sumlin went 51-26 in those six seasons.
Dan Mullen has left Mississippi State to take over in Florida.
Chip Kelly has been hired as the new head coach at UCLA.