High School Football Games tonight:
–Butler will host Shaler at 7:30pm. Ron Willison and Craig Lucas bring the game to you on WBUT 1050am and at wbut.com beginning at 7:15pm.
–Knoch wll visit Montour for a 7pm kick-off. Scott Briggs and Dave Bacon can be heard on WISR 680am and at wisr680.com beginning at 6:30pm.
Other 7pm starts:
–Mars will host New Castle
–Karns City travels to Keystone
–Moniteau will visit Clarion
–Slippery Rock is home to Grove City
–Seneca Valley is on the road to Penn Hills
–Freeport will visit Burrell
–North Catholic travels to Avonworth
–Union-AC Valley is hosting Redbank Valley
College Football Saturday:
–Penn State is hosting Indiana. Kick-off is 3:30pm. Pre-game on WBUT 1050am is 2pm.
–#18-ranked Slippery Rock will host #5-ranked California. Kick-off is 6pm at Mihalik-Thompson Stadium. Pre-game is 5:30pm on The Rock Station 97.7fm and at 977rocks.com. It is a Salute to Military and First-Responders night—with free admission for all veterans, active duty military along with current and retired first responders.
–Pitt is home to Rice for a noon kick-off at Heinz Field
–Westminster will visit Thomas More at 12pm
–Thiel at Washington & Jefferson—1pm.
–Grove City travels to Waynesburg at 1:30pm
–Clarion travels to Edinboro for a 4pm kick-off
–IUP at Seton Hill – 4pm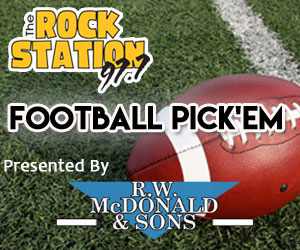 Thursday Night Football:
–Green Bay defeated the Chicago Bears 35-14. The Packers took over the overall series lead in the rivalry for the first time since 1933. The Packers are now 95-94-6 against the Bears. The game featured a 47 minute lightning delay in the first half.
The Pittsburgh Steelers visit the Baltimore Ravens Sunday for a 1pm kick-off. Hear the game at noon on WISR 680am. Both teams enter the game 2-1.