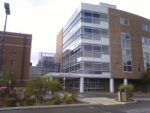 A local man has been charged following an incident in which he allegedly injured a nurse while trying to escape from Butler Memorial Hospital.
According to a criminal complaint filed by Butler Township Police, 38-year-old Kurtis Keefer of Butler attempted to leave the hospital shortly before 8 p.m. on Monday (2/11).
A nurse on the third floor told police she was letting visitors out when a male patient attempted to escape by shoving her to the ground. That resulted in a fractured left elbow which required surgery.
The male patient was identified as Keefer who will face charges including felony aggravated assault.
The post Hospital Assault Leads To Charges Against Butler Man appeared first on ButlerRadio.com – Butler, PA.