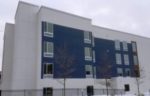 Governor Wolf has made a modification to a list of businesses ordered to close after an objection by a state organization.
The Pennsylvania Restaurant and Lodging Association called the Wolf administration to encourage removal of hotels, motels, and bed and breakfasts from his order. That part of the order was rescinded.
Jack Cohen is President of the Butler County Tourism and Convention Bureau on the board of the Association.
"They can't close hotels, that can't happen," Cohen said. "It's a necessity for people who aren't home and in areas where they need a place to sleep," Cohen said.
The only restaurants that are allowed to be open at this time are those with carryout and drive through. Any other one that would be caught open could be liable and cited.
According to Cohen, the Butler County Commissioners are very aware of all the issues.
"They're very aware of what they're responsibilities are, and they are working closely with the Governor's office and other businesses in the community to do the best that they can," Cohen said.
Cohen also stressed the importance of communication in helping communities get through this difficult time.
#ButlerRadioNews
#butlerradionetwork
#insidebutlercounty
#PA
The post Hotels Can Remain Open; Restaurants Allowed To Offer Take-Out appeared first on ButlerRadio.com – Butler, PA.