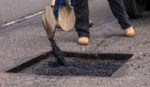 Although it's been a fairly mild winter, we're coming upon that time of year where you'll see those dreaded potholes in the area.
Bad potholes can be quite expensive too, causing bent wheels and suspension damage, which AAA estimates can run over $1000.
Potholes form when moisture collects in small holes and cracks in the road surface. This moisture then expands and contracts when the temperatures fluctuate. When combined with the weight of passing vehicles, the pavement begins to break up and cause potholes.
AAA does offer some tips to help minimize vehicle damage including:
-Make sure tires are properly inflated to act as a sort of cushion
-Look ahead and scan the road for potholes to have more time to react
-Slow down if a pothole cannot be avoided
-Beware of puddles which often disguise deep potholes
-Make sure a spare tire is ready to use if necessary
The post It's Now Pothole Season appeared first on ButlerRadio.com – Butler, PA.