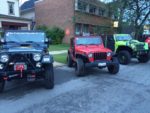 The Jeep Heritage Festival is returning this weekend.
The 12th annual event is a three-day festival celebrating the creation of the Bantam Jeep in Butler.
The weekend starts off with the "Jeep Invasion" in downtown Butler Friday night. Organizers say they're expecting 1,000 Jeeps to be in downtown that night, parked along Main Street.
Drivers should be aware of some traffic restrictions Friday as well.
Main Street will be shut down starting at 3 p.m. that day, and will remain closed until the Jeeps have cleared out—which should be after 10 p.m.
Officials also say Main Street parking is prohibited starting at 2 p.m. Friday.
The post Jeep Heritage Festival Returns For 12th Year; Invasion Set For Friday Night appeared first on ButlerRadio.com – Butler, PA.