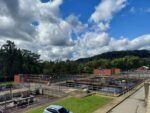 The Butler Area Sewer Authority has approved an agreement that starts the process to dissolve the entity as the sale to the Pennsylvania American Water Company looms.
However as the deal is still being weighed by the Public Utility Commission, an administrative law judge recently issued a recommendation against the sale.
The judge from the Commonwealth Court said in the opinion that the cost to BASA customers was the reason behind the ruling.
In a joint statement between Butler City, Butler Township, and the Sewer Authority, they said "while we are disappointed by the recommendation, it does not change our resolve to move forward."
The statement also says that the stakeholders in the deal believe it benefits all parties involved.
Mayor Bob Dandoy says the timeline for the ruling by the PUC still remains the same.
The post Judge Issues Recommendation Against BASA Sale appeared first on ButlerRadio.com – Butler, PA.