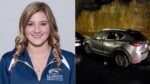 Jury deliberations are set to resume today in the murder trial of Caitlyn Kaufman.
The Butler native was shot and killed on a Nashville highway in December 2020. She was on her way to work as an ICU nurse in a Nashville hospital.
Police charged Devaunte Hill and James Cowan with first degree murder after they say a road rage incident led to Kaufman's death.
During the trial, prosecutors say Hill shot at Kaufman's vehicle six times after she allegedly cut them off on a highway.
Jury deliberations began around noon yesterday and wrapped up around 6 p.m.
The post Jury Deliberations Underway In Kaufman Case appeared first on ButlerRadio.com – Butler, PA.