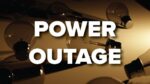 Several thousand Butler area residents are experiencing a power outage.
A total of nearly 9,000 West Penn Power customers lost power shortly after noon including many businesses.
According to the power company's website, nearly 5,000 Butler Township residents have been affected along with nearly 2,000 in Center Township.
The Butler VA facilities are also experiencing the outage so they have canceled all afternoon appointments for today. VA staff will call those who were planning to come in to reschedule.
The cause of the outage is under investigation with crews working to use unaffected lines to provide power. Power is expected to be restored sometime between 3:30 and 4:30 p.m.
The post Large Portion of County Residents Affected By Power Outage appeared first on ButlerRadio.com – Butler, PA.