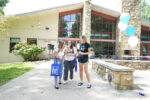 Representatives for community colleges are in Harrisburg this week advocating for more funding and support.
It's an effort known as Lobby Day among the group, when they showcase the success of students from community colleges.
The leader of the community college advocacy group, known as the Pennsylvania Commission for Community Colleges, is Elizabeth Bolden. She recently testified to lawmakers that it may be worthwhile allowing the colleges to offer four year degrees.
"24 states allow community colleges to award a baccalaureate degree, at least 12 of them are allowing baccalaureate degree in nursing. Most notably to help meet that state's need in significant workforce shortages in nursing and other allied health professions," Bolden said.
Butler County Community College has invested significantly in their nursing program and most recently introduced a practical nursing program which is in its second year.
The post Leader Of Community College Group Advocates For Four Year Degrees appeared first on ButlerRadio.com – Butler, PA.