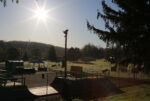 Butler City Council has approved a plan to leave the lights on later at several Butler City parks.
Council discussed the proposal at their agenda setting meeting earlier this month which includes leaving the lights on until 9 p.m. through October.
The parks affected would be the Skate Park at Father Marinaro, the tennis courts at Memorial, and the Pickleball courts at Ritts. The hope is that leaving the lights on later would allow people to utilize the facilities as well as deter crime and improve safety.
The lights have already been checked and are in working order. The new extended lighting will begin tonight.
The post Lights Will Stay On Later At Some City Parks appeared first on ButlerRadio.com – Butler, PA.