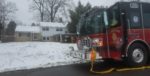 No one was injured as a result of a house fire on Thursday afternoon in Butler Township.
The fire started about noon at a home on Linsdale Drive.
No one was home when the fire started and damage was limited to the interior and exterior of one corner of a second floor bedroom, according to Chris Switala, joint fire chief for Butler City and Butler Township.
"There were some flames coming from the second floor," Switala said.
The lower levels of the home did sustain water damage. The cause of the fire is undetermined.
—
This was the first fire following the hire of a new joint chief. And now, all Butler Township volunteer fire departments are being dispatched as one to all fires.
But, Joint Chief Chris Switala says not much has changed in terms of how crews battle a blaze.
"This is the first instance of working together, and the first fire in Butler Township with the Joint Chief position, but it worked out as we had intended," Switala said.
The post Local Crews Work Together To Fight Butler Township Fire appeared first on ButlerRadio.com – Butler, PA.