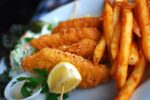 There are a couple of fish fry locations that are changing plans for offering food this evening.
St. Fidelis has told our newsroom that they will be moving their meal to 'take-out' only at the urging of the Diocese.  Their statement is the following.
The St. Fidelis Fish Fry will serve takeout dinners only on Friday, March 13, from 4 to 7pm. at its social hall at 125 Buttercup Road in Meridian. The Diocese of Pittsburgh has urged its parishes to opt for takeout only for fish fries as a pre-emptive step regarding the spread of the coronavirus.
Also, the North Washington Volunteer Department's Fishy Fry has been canceled.  Their statement to our newsroom included '…our fish fry has been canceled due to the Governors recommendation.'
You can view other events and activities that have been canceled or postponed here!  (Community Cancellations & Closing Center) 
The post Local Fish Frys Change Plans appeared first on ButlerRadio.com – Butler, PA.