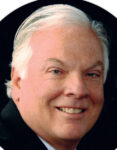 A local state representative is continuing to pursue an impeachment trial against the Philadelphia district attorney.
Republican State Rep. Tim Bonner, who represents Butler and Mercer Counties, filed an appeal this week to the Pennsylvania Supreme Court so they could move forward with a trial against Democratic District Attorney Larry Krasner.
Earlier this year, the state's Commonwealth Court said the articles of impeachment were legally insufficient and the state Senate voted to suspend the impeachment trial indefinitely.
Now, Bonner says the state legislature holds the sole authority to determine what constitutes misbehavior in office. He also believes the court ruled without hearing all the necessary evidence.
The post Local Lawmaker Still Pursuing Impeachment Of Philly DA appeared first on ButlerRadio.com – Butler, PA.