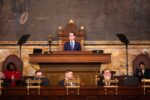 Local lawmakers are offering their reactions to Governor Josh Shapiro's nearly $46 billion budget proposal.
Republican State Representative Marci Mustello is a member of the House Appropriations Committee. She called the plan a "wish list that starts the conversation" that will hopefully end with a fiscally responsible budget. She expressed concern with spending that would deplete the $5 billion Rainy Day fund within five years.
"While there are some positive items in this budget – such as no new tax increases, increased education funding and additional money to help our farmers — the governor wants to spend when families cannot afford it," Mustello said in a statement.
Republican State Representative Aaron Bernstine agreed, stating that the proposed nearly 6% increase in spending over the current year is a "slap in the face to taxpayers" dealing with inflation. He went on to say that now is the time for "fiscal responsibility" instead of "Shapiro's far-left wish list" that includes an increase to the state minimum wage.
Republican State Senator Scott Hutchinson believes that the governor's proposal does not include "enough money for everything".
"The message we heard today was very long, which means there's a lot of money that is being spent. I am always concerned about living beyond our means," Hutchinson said. "That being said we're going to look closely over the next several months about the governor's priorities and new programs he's talking about."
He also expressed concern that the budget appears to assume that the state will remain a part of the Regional Greenhouse Gas Initiative which he maintains will cost residents with a tax on electricity.
The post Local Lawmakers React To Shapiro Budget appeared first on ButlerRadio.com – Butler, PA.