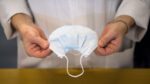 Lawyers from Butler were in a courtroom yesterday arguing against the legality of the school mask mandate issued by the state earlier this year.
Tom Breth, representing a group of parents against the mask mandate in schools, led the case against Governor Tom Wolf and Acting Secretary of Health Allison Beam. He says the issue is not whether or not masks keep kids safe, but rather that the health secretary doesn't have the power to issue the mandate without an emergency declaration.
Lawyers from the Attorney General's office meanwhile countered that masks are a reasonable measure to keep people safe.
Judges on the Commonwealth Court peppered questions to both attorneys throughout the day. It's unclear when a ruling will be given.
The post Local Lawyers Head To Court Over Mask Mandate appeared first on ButlerRadio.com – Butler, PA.