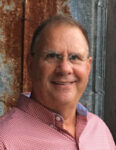 A long time, much beloved, minister has died.
Pastor Bob Huber, of North Street Christian Church, passed away on Saturday, July 4, 2020.
He worked at North Street Christian Church for 42 years, first as a Youth Pastor for several years, then Associate Pastor and in 1984 becoming the Sr. Pastor. His church family was very important to him and he was constantly humbled by their overwhelming support through his battle with cancer.
He was the pastor at North Street Christian Church from 1978 until his passing and affectionately known by his Church Community as "PB".   He was a youth pastor at a couple of churches prior to position at North Street.  Pastor Huber also served on the Board of Life Choices and was the Butler City Police Chaplain.
Bob's mission in life was to tell others about Jesus. He mentored many young men and women to go on to full time ministry. He also loved his mission work in Thailand and had a goal for one more trip to the area.
Bob's motto was, "Love God, Love People" and he lived that to the very end.
Bob is survived by his wife, one son, two daughters and many other family members.  Friends will be received at North Street Christian Church in Butler on Saturday (July 11) from 11am-12:30 p.m. with a Celebration of Life Service.
The arraignments have been made by the Thompson Miller Funeral Home.
Pastor Huber was 66 years old.
The post Local Pastor Passes Away appeared first on ButlerRadio.com – Butler, PA.