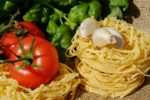 A meal deal to help a local restaurant survive has turned into an effort to feed local families in need.
The Hotel Saxonburg, on Main Street in Saxonburg, developed the Family Meal Deal to offer something to the public while at the same time trying to bring money into their business during the pandemic.
A friend of the Hotel's owner, who lives an hour away, wanted to help support the restaurant in some way and decided to order the Family Meal Deal with the instructions that the meal was to be given to a family in need in the Saxonburg area.  The Hotel posted the kind gesture on their Facebook page and others decided to continue the effort.  Since March, Hotel Saxonburg's owner, Judy Feree, says they've made over 220 of these orders which turns into 880 individual meals.
It's not just the public that is getting involved in the effort, the town's officials are as well.  Feree says the Saxonburg's Chief of Police, Joe Beecham, started offering to deliver the meals.  Saxonburg's Mayor, Bill Gillespie, has lent a helping hand in finding the families in need.
If you wanted to be a part of this effort, the number you'll need is 724-352-4200.
The post Local Restaurant Helping Feed Families In Need appeared first on ButlerRadio.com – Butler, PA.