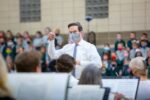 The longtime leader of Butler County Symphony is looking back fondly on his time as the conductor.
We reported last week that Maestro Matthew Kraemer was taking a new position as the music director of the Louisiana Philharmonic Orchestra.
We recently spoke with Kraemer, who said he appreciated the collaborative efforts from the community to help the symphony succeed.
"It was no singular effort by anyone. It was the entire board, the musicians, and the community all working together to make sure that the orchestra was growing. I certainly feel confident that the orchestra is in a much better place than it was 11 years ago," Kraemer said.
Kraemer also said he's looking forward to the new opportunity to work with an historical orchestra in New Orleans.
"It's the oldest musician-governed, collaboratively operated orchestra in the country," Kraemer said. "It's got a 36 week season with 72 full-time musicians. It certainly is a big position, very humbling, and I'm honored."
Kraemer will finish the current season with the Butler County Symphony—that includes their next show on February 4th.
Hear Tracey Morgan's full interview with Maestro Kraemer below:
The post Maestro Kraemer Looks Back On Symphony Career appeared first on ButlerRadio.com – Butler, PA.