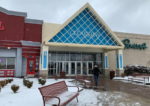 State police are searching for suspects who allegedly stole from the Easter display at the Clearview Mall and ended up dragging a security guard on their car.
The incident happened yesterday around 3:45 p.m. at the mall in Center Township.
Police say the suspects stole a three-foot foam carrot and a piñata from the Easter display. A security guard soon chased after the suspects to their car, where he tried to open the door to apprehend the pair.
Police say that's when the suspects took off in their truck and dragged the security guard for at least a quarter mile at 35 miles per hour. The security guard was not injured.
The truck was described as a dark red Chevrolet pickup. Police did not provide details on the suspects.
The post Mall Security Guard Dragged By Car After Suspects Take Big Carrot appeared first on ButlerRadio.com – Butler, PA.