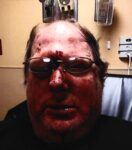 The victim of an assault last year in the city of Butler is filing a complaint against the local agency he believes to be responsible.
Attorney Al Lindsay is representing 53-year-old Robert Faitelson and his wife in a complaint against the Center for Community Resources that alleges negligence and liability.
While a permanent resident of a building on East North Street that is also used by the Center for Community Resources for emergency and temporary housing, Faitelson was assaulted the afternoon of November 14th by a short-term housing resident named Julian Bindernagel.
Bindernagel allegedly made anti-Semitic threats against Faitelson before the incident and was charged with felony aggravated assault. Faitelson now suffers back, mouth, and nose pain as a result of the assault as well as mental suffering.
According to the complaint, staff members with the Center for Community Resources ignored regular threats and harassment reported to them by Faitelson, resulting in the assault followed by the Faitelsons moving from the building last month.
The post Man Suing Center For Community Resources Following Assault appeared first on ButlerRadio.com – Butler, PA.