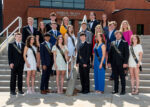 A couple of high schools are getting ready for prom this weekend..
Students in Mars will have their prom tonight at the Marriott in Cranberry. The evening runs from 6:45-11 p.m. with the theme of "Masquerade."
Seneca Valley students will have a "Night at the Casino", for their prom theme this year. It takes place Saturday at 5 p.m. with a Grand March in the High School Auditorium.
Seneca Valley families can watch in person with other viewers able to stream the Grand March through links found on the district's website.
The prom will follow from 6 to 10 p.m. at Stage AE in Pittsburgh. A prom king and queen will be announced from among 20 seniors chosen by classmates.
The post Mars And Seneca Valley Ready For Prom Weekend appeared first on ButlerRadio.com – Butler, PA.