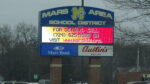 The Mars Area School Board is preparing for the possibility of a million dollar decision next month.
Following a presentation by financial advisors Tuesday night, the board approved a motion to begin the process of refinancing a series of general obligation notes from 2014.
If the board chooses to refund that debt by issuing a new series of bonds, they are expected to save about $1 million. However, if they choose to wait about two years and financial conditions remain the same, they could end up saving twice that amount.
The board is expected to make the decision about moving forward with the refinancing or postponing that transaction at their regular meeting in March.
The post Mars Board Facing Financial Decision appeared first on ButlerRadio.com – Butler, PA.