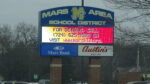 The Mars Area School Board is considering joining a lawsuit against the PA Department of Education about new guidelines.
In November of last year, the Department issued a list of nine competencies connected to the Culturally Relevant and Sustaining Education program.
According to a document on the Department of Education's website, the competencies include "reflect on one's cultural lens", "take steps to address bias in the system", "facilitate culturally relevant learning", and "promote asset-based perspectives about differences".
Professional development training for teachers on these topics must begin no later than the 2023-24 school year. The litigation would not cost the district to join; instead an unspecified private fund is footing the bill.
The Mars School Board is asking for community members to investigate this issue further and provide feedback since they anticipate taking action on this decision at their meeting in April.
The post Mars Considering Joining Lawsuit Against Dept. Of Education appeared first on ButlerRadio.com – Butler, PA.