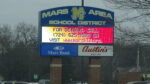 A special board meeting in the Mars Area School District Wednesday night will look at the results of a recent enrollment study and future planning.
The meeting is set for 6 p.m. inside the Mars High School.
District officials say the results of a "feasibility study" will be presented. This research first started last fall and looked at current enrollment numbers, future projections, and the capacity levels at district buildings.
There will also be recommendations for how the district can accommodate expected growth.
The meeting is open to the public.
The post Mars Meeting Will Discuss Enrollment And Future Projections appeared first on ButlerRadio.com – Butler, PA.