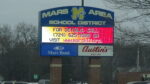 The Mars Area School District has unveiled their plans for providing education to students this fall.
Under the plan, students and parents will have three instructional options including traditional or face-to-face instruction as long as Butler County is in the green or yellow phase. This option would include COVID-19 health and safety protocols.
The second option would be Live Stream Interaction or distance learning for those with concerns about exposure to COVID-19. Any classes that would not provide LSI support would provide alternative instructional approaches and assignments.
The third option is enrollment in the Mars Area Cyber Academy. This online learning program provides district-aligned curriculum to students in grades K through 12. If Butler County re-entered the red phase, all students would resume distance learning.
The draft of this Mars Area School District plan is available on the district's website with additional information provided to parents when it becomes available.
The post Mars Unveils Reopening Plans appeared first on ButlerRadio.com – Butler, PA.