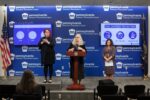 State Secretary of Health, Dr. Rachel Levine this week signed an order mandating masks to be worn and that order includes masks for kids and adults at school.
Information on the state government's website says, 'this order applies to all individuals while in school entities, including public K-12 schools, brick and mortar and cyber charter schools, private and parochial schools, career and technical centers (CTCs), intermediate units (IUs); educational programming for students in non-educational placements such as residential settings (boarding schools), residential facilities, detention centers, and hospital settings; PA Pre-K Counts, Head Start Programs and Preschool Early Intervention programs; and Private Academic Nursery Schools and locally funded prekindergarten activities.'
The information also indicates that students and staff are considered to be members of the public who are gathering in indoor locations.
Students are permitted to remove their face coverings when they are eating or drinking, seated at desks or assigned work spaces while 6 feet apart, and engaged in activity…all while 6 feet apart.
State Government's Website:
https://www.health.pa.gov/topics/disease/coronavirus/Pages/Guidance/Universal-Masking-FAQ.aspx
---
---
#masks
#facialcoverings
#kids
#school
The post Masks To Be Worn In School appeared first on ButlerRadio.com – Butler, PA.