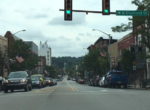 Butler's mayor says that businesses in downtown have been hit hard by the coronavirus pandemic.
Republican Ben Smith, who also owns a restaurant on Main Street, told our newsroom that shutdowns and restrictions have put businesses in a tough spot.
"I've heard from a lot of different business owners that it certainly has been a struggle. We have a few here and there that have either made the decision that they're going to close or are talking seriously about it," Smith said. "Obviously, those are heartbreaking things."
Smith also said despite efforts from city council, the voices of local municipalities are going unheard.
"[Council] is doing what we can as far as the city goes," Smith said. "But in reality, anything much lower than the state legislature doesn't really seem to have a voice that's listened to at this moment."
Hear Smith's full interview with Tracey Morgan below:
The post Mayor: Downtown Business Are Struggling appeared first on ButlerRadio.com – Butler, PA.