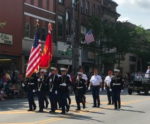 As we know the Memorial Day Parade in downtown Butler has been canceled, but we were able to talk with the Director of Butler County Veteran Services to ask why.
John Cyprian told our news room that the state is not issuing permits at this time.
Cyprian says Butler County's application for the permit was submitted in time and officials were trying to wait and see if they were able to be given out.  At this time, the state is still not able to grant a permit.  Main Street is a state road so therefore the state must be involved by giving a permit.
In an interview with our newsroom, Cyprian explained why the permit is important.  He says, it allows for first responders to be notified in order to have a plan of action for their services, streets to be blocked off, and for all those involved to have a plan of action in case of any emergencies to get around the city.
He also says the permit is important for insurance purposes for any incidents or accidents that may happen.  Cyprian said that you have to have an insurance bond to have parade.  If there is no permit, insurance coverage of such accidents would not be available.
John says it was a 'heartbreaking decision' to cancel the parade.  He is asking people to still honor the legacy of those who have lost their lives on the battlefield to protect the country.
In his press release to our station, Cyprian says Veterans Day Parade is still on as scheduled and said the following…
The annual Memorial Day Parade is our reminder that there truly is a cost associated with our freedoms. Many brave men and women lost their lives on the battlefield to protect and preserve the Constitution of the United States of America; in order for others to enjoy the rights and freedoms we often take for granted.
 So I ask that everyone take a moment out of their day this coming Memorial Day, May 25, to remember those who paid the supreme price. Their sacrifice allows the rest of us to carry on with our lives and continue to enjoy those precious rights and freedoms that we enjoy.
 I look forward to seeing everyone in November for the annual Veterans Day Parade.
John Cyprian
Director, Butler County Veterans Services
Listen to our interview with John Cyprian here
The post Memorial Day Parade Cancelled – No Permit appeared first on ButlerRadio.com – Butler, PA.