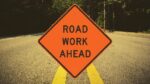 PennDOT has announced that weather issues have once again pushed back the reopening of Mercer Road in Harmony.
The ongoing project will now see the road remained closed at least through next Monday. (Oct. 3rd.)
Originally, the work on Mercer Road was supposed to last three weeks and reopen on September 9th.
However, the project has been delayed a number of times and the reopening continues to be pushed back.
So, Mercer Road will continue to remain closed in between Route 19 and Wise Road. Little Creek Road though will still be open during this time.
The post Mercer Rd. In Harmony To Remain Closed After Weather Delays appeared first on ButlerRadio.com – Butler, PA.