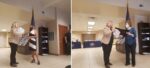 A local lawmaker took time to honor her predecessors following their passings within the past couple of years.
State Representative Marci Mustello hosted family members, friends, and colleagues of former Representatives Joseph Steighner and Guy Travaglio at her Butler office Thursday afternoon.
Mustello and others shared remembrances of the men and their dedication to the community as part of a ceremony presenting condolence resolutions approved by the state house earlier this month.
"I think that its important to acknowledge the legacy of community service established by both Joe and Guy especially in today's world when so many people take service for granted. Both Joe and Guy loved this community. They loved Butler and did all they could to make it a better place for people to live, work, and raise their families. They wanted to leave this community better than they found it and went to work each day with that goal."
Steighner served as Representative of the 11th Legislative District from 1978 to 1994. Travaglio followed Steighner in 1995 and continued to serve until 2004. Travaglio passed in September of 2019 followed by Steighner in August of 2020.
The post Mustello Recognizes Former Local Representatives appeared first on ButlerRadio.com – Butler, PA.