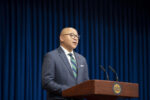 According to a recent audit, a dozen school districts in Pennsylvania were using a loophole to store cash in the reserve funds.
Auditor General Tim DeFoor says that although the move is legal, school districts were moving unspent funds into other accounts while raising taxes without voter input.
"During our audit, it became quickly apparent that these districts found a way to use the law to their advantage so that they could always raise taxes," DeFoor said. "Basically it's a shell game."
One of the schools included North Allegheny School District and Canon-McMillan School District.
DeFoor recommended changing the end of the fiscal year for schools to September 30th instead of June 30th.
The post New Audit Reveals Districts Moved Funds And Raised Taxes appeared first on ButlerRadio.com – Butler, PA.