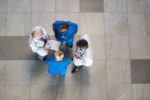 The Pennsylvania Senate has passed a comprehensive cancer screening bill.
The bill aims to reduce costs to help people get access to early screenings.
Republican Senator Devlin Robinson of Allegheny County says it eliminates costs associate with breast MRI's, ultrasound, and genetic testing—including for the BRCA gene.
"BRCA 1 and 2 are tumor suppressing genes that are crucial to fighting cancer. Both men and women who inherit a BRCA gene mutation are much more likely to develop a hereditary cancer such as breast or prostate cancer," Robinson said.
Robinson also has the BRCA gene; he says discovering the gene is a lifesaving development that leads to early detection and preventive treatments.
The post New State Bill Aims To Help Cancer Screenings appeared first on ButlerRadio.com – Butler, PA.