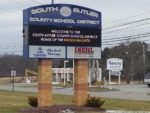 The South Butler School Board has revealed an expected budget for the 2022-23 school year with no tax increase.
During the Wednesday night school board meeting, officials approved a preliminary general fund budget of just over $38 million which is over a million more than the amount budgeted for the current year.
The tax rate will hold constant at this year's rate of 94.275 mils. Six teachers and one principal will be retiring with internal moves and new hires to meet staffing needs. The district plans to use grant funding to pay for a new social worker and a new counselor for the next two years.
That budget will now be posted for public review on the district's website for 30 days. Residents are encouraged to provide feedback before a final vote is taken on next year's budget in June.
The post No New Taxes For South Butler School District appeared first on ButlerRadio.com – Butler, PA.